Learning Journeys Japan
Lean Production and Leadership – OPERATIONAL EXCELLENCE of Companies in Japan
Our focus is on how LEAN Production and Kaizen are applied, as well as the type of leadership required for this process. Nothing inspires more than experiencing powerful real-life examples. That's why we offer you
Quality over quantity: Four to five visits to companies regarded in Japan as benchmarks for

Monozukuri®

Monozukuri – i.e. the manufacturing of things
In-depth visits: Extensive factory tours, including live presentations of Kaizen activities; these visits are sometimes much longer than the typical 2-hour visits organised by other operators
Practice-oriented: One-day Kaizen training session led by former Toyota TPS trainers – with guaranteed aha! effects for all participants
Powerful inspiration: Face-to-face interaction with 'LEAN Leaders' and 'Kaizen Managers' – gain insight into their 'toolboxes' and how they approach leadership in practice
Rigorous evaluation, user-oriented documenting of findings, advice on transferring what you have experienced to your own professional life
First of all, we provide preparatory training for the participants in Europe. The next step is visiting showcase companies in Japan. Our objective is to energize the improvement process within your own company by
developing your managers' understanding of their role as agents and drivers of improvement, empowering them to deliver improvement in a strategic manner while also maintaining Kaizen dynamics.
imparting a sound understanding of LEAN Production and Kaizen to your improvement experts and equipping them with the tools to better motivate and convince their colleagues and staff through hands-on experience, best practices, and generally being a breath of fresh air when it comes to the topic of improvements.
The standard by which the learning journeys are to be measured is: Ultimately, the only thing that counts is what is later implemented in your own company. Whether we live up to this claim you can see here.
〈
Back in 2016 I was able to take part in the insightful Learning Journey to Japan. During these eight days RD interlogue presents an impressive selection of companies displaying consistent implementation of lean and kaizen – especially with regards to the importance of soft factors such as mindset, culture and leadership. Since then we have been focusing much more on the 'left / right side of the brain'. We have not only implemented the lessons learned at Volkswagen, but also very consistently here at Bentley, with great results.
What our Participants say:
Sebastian Benndorf, 2020
Head of Planning Bentley Motors Ltd., participant in the Learning Journey in October 2016
We participated in the open Learning Journey in March 2019 with a group of six managers. The expectation was that each participant would recoup 10 times the costs via savings. This was achieved by everyone in the course of the same year and with regards to culture there was an even greater impact!
What our Participants say:
Boris Katic, 2019
COO U.I. Lapp GmbH, participant in the Learning Journey in March 2019
You can't imagine how much I'd like to accompany you on another Learning Journey – it's unbelievable how much I learned in those 10 days and how much I was able to incorporate into our training program and our company in general. Many thanks once again for all your efforts.
What our Participants say:
Ulrike Brasseur, 2019
Department for Training and Further Education at a German car manufacturer, participant in the Learning Journey in June 2016
I was on the trip to Japan, and the fire is still burning inside. This year I have already implemented 17 measures. My staff have also caught the bug; when I walk through the various departments, I'm guaranteed to come back with a CIP order. And the staff are particularly impressed by how rapidly some of the measures can be implemented.
What our Participants say:
Stefan Baumstark, 2019
In-house consultant on ergonomics and lean production at a German car manufacturer, participant in the Learning Journey in June 2015
〉
The Pathway to OPERATIONAL EXCELLENCE Goes via Japan.
Why Japan?
The 'Executive Summary on 12 slides' (PDF) illustrates the connection between Kaizen and OPERATIONAL EXCELLENCE, as well as the importance of the soft factors: mindset and leadership. A more detailed explanation of the connections can be found on the following slides.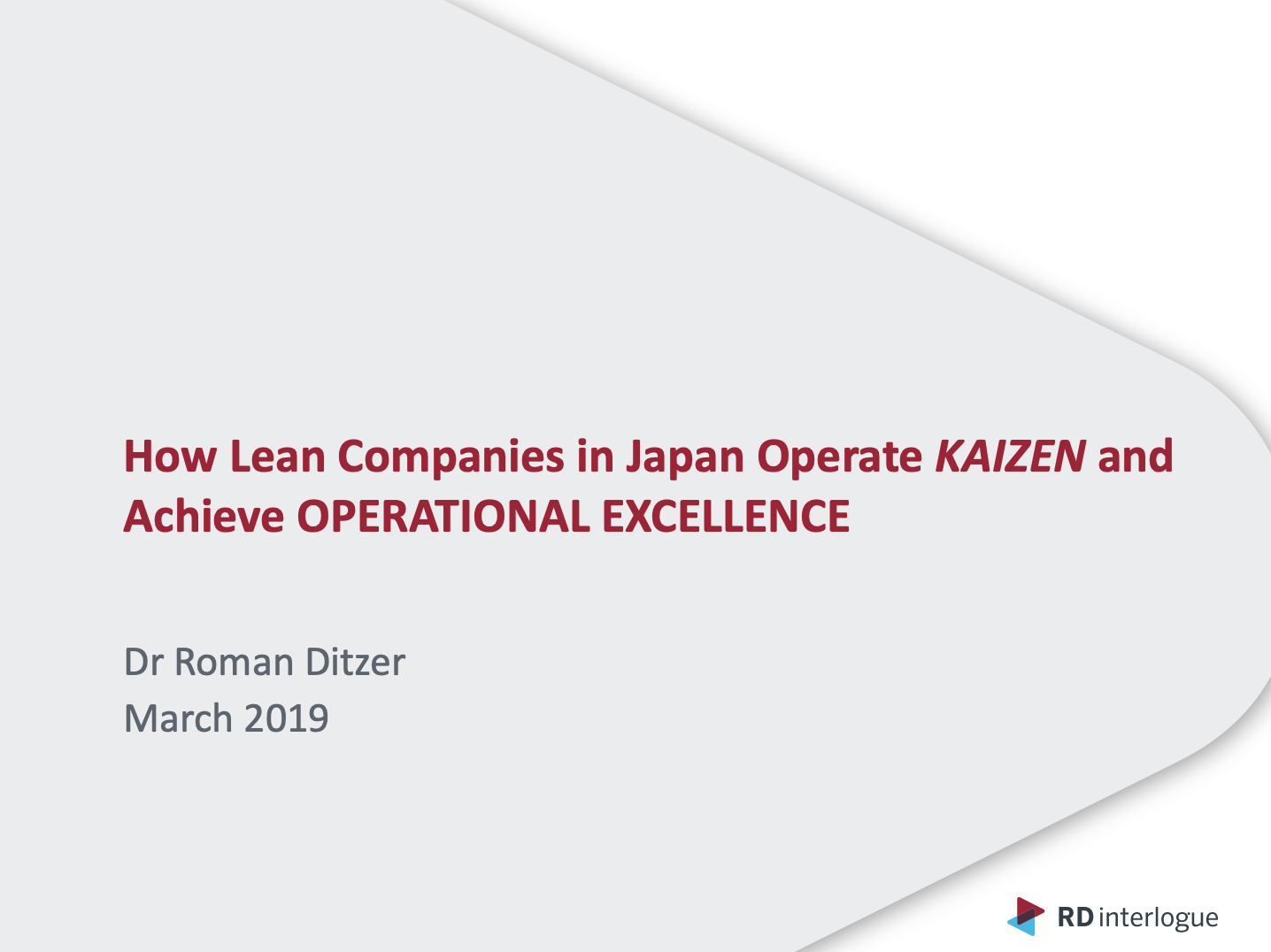 Back to top